About the author & tour leader

Cuba expert, travel writer and photographer, and tour leader Christopher P. Baker is considered the world's foremost expert on Cuba travel and tourism, about which he has authored six books. He has visited Cuba more than 50 times, has met Fidel Castro, and leads tours of Cuba for Backroads, MotoDiscovery, National Geographic Expeditions, and Santa Fe Photographic Workshops.

Baker—the Lowell Thomas Award 2008 'Travel Journalist of the Year'—has also written about Cuba for dozens of international publications, as far ranging as Caribbean Travel & Life, Maxim, National Geographic Traveler, MotorCyclist, and The Robb Report.

He has been privileged to speak about Cuba to the National Press Club, National Geographic Society (televised "Live from National Geographic"), and World Affairs Council. He has appeared on ABC, CBS, Fox TV, NBC, NPR, & dozens of other radio & TV outlets.

He is available for speaking engagements, media interviews, story assignments & tours.

Book Baker!
760 327 9879 or e-mail



@cubaexpert

Learn more about the author





Join Cuba expert Christopher P. Baker on a 15-day group motorcycle tour of Cuba for U.S. citizens this winter 2013-2014...

In 1996 Christopher shipped his BMW R100GS motorcycle to Cuba and rode 7,000 miles during a three-month journey to research the Moon Handbook Cuba. His literary travel book–Mi Moto Fidel: Motorcycling Through Castro's Cuba–describing the journey was published by National Geographic Adventure Press and is a two-time national book award winner.

Seventeen years later, in 2013, Christopher fulfilled his dream of leading the first-ever group motorcycle tours of Cuba for U.S. citizens!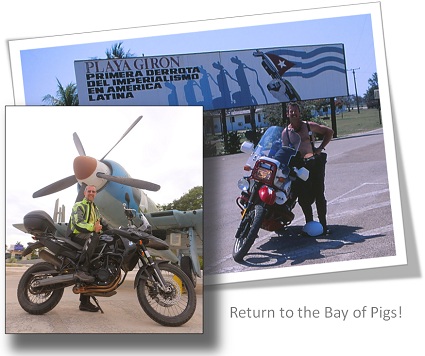 Now YOU can be among the first U.S. citizens to motorcycle in Cuba!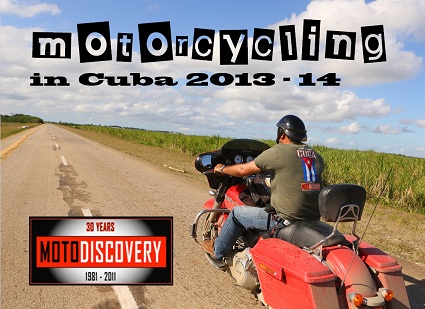 MotoDiscovery is now the only company authorized to provide motorcycle travels of Cuba for USA citizens, licensed by the US Department of Treasury and Office of Foreign Assets Control. And what does this mean? You can fly direct from Miami to Havana (included) and experience Cuba knowing that you are traveling within the law.

Under the designation of Educational People to People Exchanges, we have created an itinerary that is filled with daily encounters with Cubans, digging beneath the surface to learn as much as we can about Cuba's profound history and culture.

Book here!






Travel Book of the Year
Lowell Thomas Awards

"This is a wonderful adventure book… a meditation on philosophy, politics, and the possibilities of physical love. It has the depth of a novel and the feeling of a great love story."

also NATJA Grand Prize




Autographed hardback
Only $26.00 plus postage
Pay online with ProPay









Rave reviews...


"Mi Moto Fidel is a satisfying and complete portrait of Cuba It's all here: money, sex, politics, geography, history, cigars, marlin, and, of course, Fidel. Serious travel writing is often intricate and complex. Bikers, it seems, do it better."
Tim Cahill — Pass the Butterworms and Road Fever

"Baker's kiss-and-tell account of his romps across Fidel's island offers a bittersweet glimpse of life inside the last Marxist utopia."
Jon Lee Anderson — Che Guevara: A Revolutionary Life

"Chris Baker's chaotic pilgrimage--by turns sharp-eyed, lustful, poetic, feverish and joyful--brings a tropical nation of 10 million to vivid, pulsating life. The motorcycle proves itself, once again, a brilliant, ice-breaking instrument of true travel."
Ted Simon — Jupiter's Travels: Four Years Around the World on a Triumph